Database storage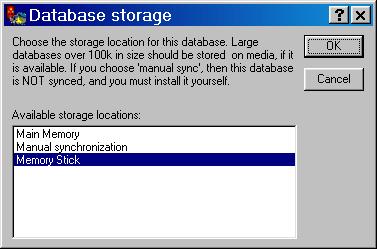 If your handheld device has a memory media expansion slot, then large databases will be setup by default for installation to memory media. But you can change the installation location for each individual database file. Select a file, and click on 'Storage'.
The choices you choose are saved when you rerun and install databases later on. To reset the choices to the defaults based on the file sizes, click on 'Reset'.
Storage - Main memory
The database is installed to main memory. Note that very large files may take a long time to synchronize, possibly as long as 10 minutes with slower serial synchronization.
Storage - Manual
Some Palm handhelds include software that allow you to copy files directly to media memory very quickly. You can choose to skip synchronization of some or all of the files, and install them yourself. Click here for more information about where you can manually install the databases so that Magic Scout will find them.
Storage - Media
The last options will include the names of expansion slot media, such as 'Memory Stick'. Choose this option to have the selected database saved to media. This will save your main device memory for applications. Although synchronization to media is faster, expect large databases over one megabyte in size to still take a fair amount of time to synchronize, up to several minutes.