Download Databases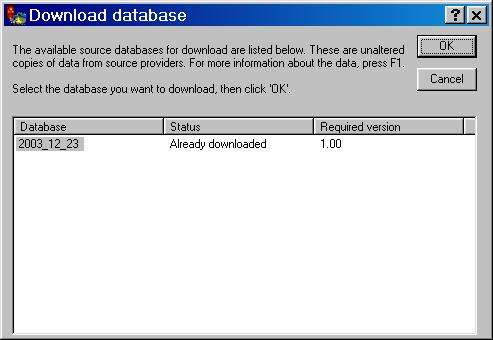 This window shows you all the Magic™ databases that are available for download from the Internet. To avoid issues with changing data sets at public sites, we collect stable versions of public Magic™ data and post them at our web site: www.MagicScout.com. These are unaltered versions that the original authors allow for free public distribution. The versions we copy to our web site are tested and approved for use with Magic Scout. Click here for more information on how the Generator works to build databases for Magic Scout.
Each row in the listview displays the available database date, whether you have already downloaded it, and the minimum Magic Scout version required to download it. If you try and download a database that requires a new version, you will be warned to first update your software.
Downloading a database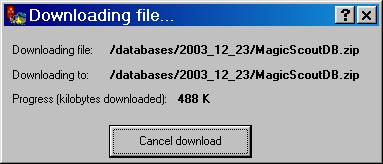 Select a database from the list to download, then click on 'OK'. This will start the download process. You can cancel this at anytime by clicking on 'Cancel download'. Depending on the speed of your Internet connection, the download could take seconds to minutes. The status is updated in the window as the download proceeds.

Once the download is complete, the Generator will build the Magic Scout databases for installation to your Palm OS handheld. Click here for more information about this process.